Scanning Technology
Certified's portable scanner is the preeminent mobile scanning solution. With a single firewire connection, simply plug into a laptop or connect to an iPad and you are ready to scan. Scanning is as easy as "point and click" without concern of overlaps or directional placement. Simply digitize your molding bag or plaster negatives, while obtaining the most accurate capture of the mold available on the market today. After scan is obtained, files can be simply uploaded to our website or emailed to us at scans@certifiedortho.com.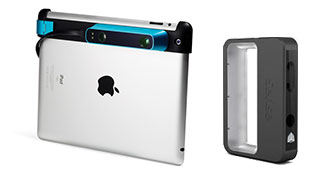 Fast, accurate, and easy to use
Scan process takes place in seconds
Versatile point and scan range
Extracts precise targets from busiest of backgrounds, scanning only the object you want
Hand held mobility to scan anywhere
Simple USB connection to any laptop
Simple software download
Simply upload scan to our easy to use upload form (*hyperlink to upload form*)
Upload scans here
*We can accept .stl/.obj files from ANY scanner that you are currently using*
Pricing incentives
$500 per scanner
$500 cost of scanner will be credited to account after first five orders
Highlights of Ordering with Scanning Technology
All of our custom seating systems utilize the Z-Axis Scanner to capture the shape of the mold into an electronic file. The scanner is extremely simple to use and requires minimal training that does not require a special seminar or workshop. Training can be accomplished over the phone. The software is included with the scanner, and we do not have any fees for training. We are offering the Z-Axis Scanner to any facility/ATP for only $500.00. This $500.00 will be credited after the fifth order making the scanner cost neutral.
This turn-key ordering process also saves the ATP an invaluable amount of time during evaluation and eliminates the need for a traditional plaster mold. (Please note that we will still accept plaster molds). In addition, whatever shape capturing system the facility/ATP is already utilizing will work with our scanning method, meaning there is no need to invest in a new molding frame or bags. After the shape capture is scanned, the file and order form is simply uploaded through our website or emailed saving shipping costs and time.